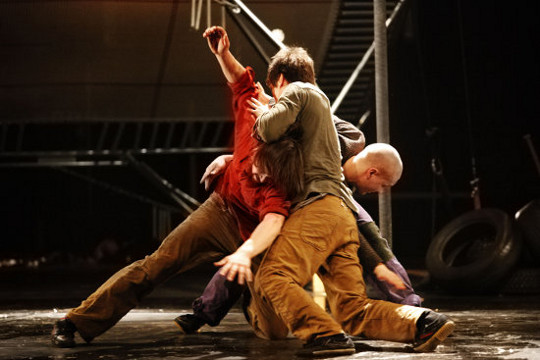 A gang of three. Storming the European circuit with their first piece for theatre stages, Petit Mal, Race Horse Company comprises Rauli Kosonen, Kalle Lehto and Petri Tuominen – an ex-Gymnast, a breakdancer and a former MMA and cage fighter, respectively. Their circus is rough: rough-edged, but rough too in taking a particular kind of young adult male aggression and outputting it as a dangerous, overspilling energy. The result is an underground, do-it-yourself aesthetic which in Petit Mal had the benefit and balance of nuanced direction from Circo Aereo co-founder Maksim Komaro.
Magazine
By John Ellingsworth on 15 May 2010 in
Reviews
By the end the stage floor is torn up, the Chinese pole has been felled, feathers and tyres are everywhere. The set is a wreck, but then it always was...