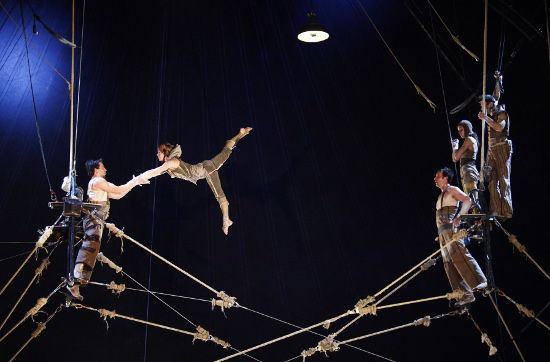 It began in 1988 as a meeting of circus schools and, through two decades of extension and growth, Festival Circa has kept that purpose close at heart: today it is foremost a place for the FEDEC schools to perform, to experience each other's work, and to immerse themselves within a professional programme that draws widely from the diverse facets of contemporary circus. It's OK, though; anyone can come along for the ride.
Each year for one week in October Circa takes over Auch, a small town in Southern France, fitting tents in spaces between buildings, in carparks, on grassy wedges of land, in front of the town's cathedral, by the riverside. It becomes a circus town – a fact felt strongly when walking the sloping, picturesque streets, and in the continuous day- and night-long buzz of the Maison du Festival, a broad, stone-pillared lodge-like building that rests at the centre of Circa's activities.
You can buy tickets for the FEDEC shows (there are usually two a day), which are boisterous and rousing if not always theatrically adept, and then there are fifteen or so professional productions, about half of which are entirely new. It's not the place to go to see contemporary circus' Greatest Hits; rather to get an overview of the year's artistic work and, perhaps, to see the next big thing. Underlying it all is a sort of second programme for the industry (but open to the public) of networking events, book launches, and project presentations – your days will be full.
For promoters Circa is a chance to see shows in their most nascent form and extrapolate to what they might eventually become – if that were cut, if this were worked on, if a director were brought in. Perhaps that doesn't sound so appealing for a non-professional audience? But if you go wanting tried and tested material then you've missed the point: like the Edinburgh Fringe, Circa is a festival with such vitality and pervasive character that the hit rate with the things you see is almost immaterial. It is a place to catch new shows – if you want, five or six in a day – but as well it's a meeting-place, a holiday, an annual State of the Circus address. It's recommended.
« The festival programme is for the students. Every year I want to present the new circus for the students – where contemporary circus has gone in the last twelve months, and the shows are very different because the new circus is different. We have the FEDEC shows because many schools don't know the works of other schools, and it's very important to see each other's work and to exchange. The festival is first for students, after for the general audience. »
Marc Fouilland, Festival Circa Director (October 2010)