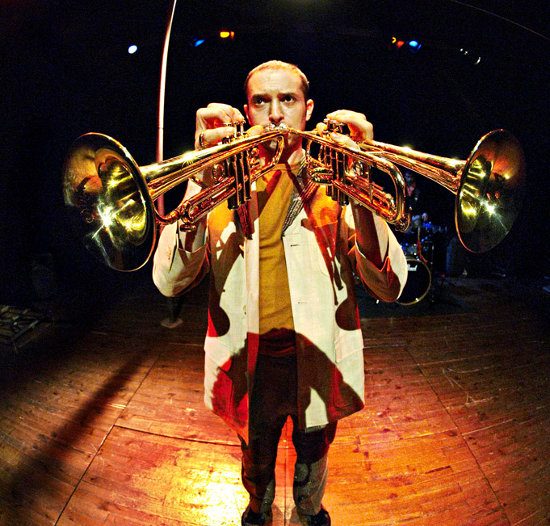 Sifting through the summer festival programmes, Sideshow speculates on what might be worth seeing...
Divided into three weekends that focus on the Medway towns of Chatham, Gillingham and Rochester, the Fuse Medway Festival is an early-stop for touring companies, and another demonstration of Kent's blossoming interest in circus and street arts. Among the programme I'd recommend Acrojou's The Wheel House, if semi-blindly (I haven't seen it; I just like their work-in-perpetual-progress Wake), and you should take a look at the UK's only tightwire company, Dizzy O'Dare, who are ubiquitous in the festival with presentations of The Tiny Travelling Tightwire Show! and From the Inky Deep covering all three of the participating towns. On Rochester's riverside, Fidget Feet perform Lady Silk…, an aerial dance piece incorporating projection and exploring the shifting worlds of memory, dream and fantasy, and Scarabeus (who visited last year) return to team-up with pyrotechnic company The World Famous for Focal Point, an explosive festival closer staged from the deck of LV21, a 40-metre steel-hulled lightship.
Also playing to audiences on a giant scale, City of London Festival has three outdoor performances of Ockham's Razor's factory show The Mill, which premiered at the London International Mime Festival in January, and for COLF will play in Paternoster Square (in front of St Paul's Cathedral) after a period of redevelopment and with a slightly revised cast. It'll be interesting to see what sort of resonances it picks up from the setting and how they adapt it; also it's free.
Looking west, Glastonbury will have the usual mix of outdoor and tented cabaret performance, some of it very good, some of it probably not so good, with the two main-billing circus companies Atempo Circ (a German wheel, Chinese pole and cloud swing trio from Spain) and Circolombia, who perform Urban after stints at the Roundhouse and the Brighton Festival Fringe.
Then, launching on the same day, National Theatre's Watch This Space is the longest of the summer festivals—making it more or less certain that it will at some point, and probably multiple points, be overwhelmed by weather. Last year I can remember: sweltering desperately and having to leave because there was no room in the shade; actually physically shivering with cold during an evening performance; racing with a huge crowd of people for the cover of the NT overhang at a sudden violent downpour. I also remember enjoying it.
The 2010 season kicks off, as last year, with a residency from Circus Space just-graduates (the class which this magazine has tirelessly tracked/harried through two showcases of devised work), who will be ensnaring the interest of Southbank tourists and pedestrians all week by rehearsing outdoors, also giving performances of their degree ensemble show Step it Out, about the world of fashion and directed by Sue Broadway (one of the founding members of Circus Oz and currently working with Strange Fruit). Also in residency, also returning, Gandini Juggling will take over the NT square during the middle of July. Their week coincides serendipitously with the biennial London International Youth Circus Festival and crosses over to incorporate representatives from Lithuania, Australia, Finland and our own United Kingdom as Gandini Guests. There are also free Beginner and Pro workshops in juggling and in movement for juggling, and a new piece created specially for WTS, Smashed!. The third circus residency goes to Mimbre—who perform Until Now (absolutely not my cup of tea), plus older works Sprung and Falling Upwards, and a scratch of their new piece Trip-let.
There's plenty more circus worked into the general WTS programme: Against the Tide, a brilliant outdoor piece that found its perfect site at the southern outlet of the Greenwich tunnel at Greenwich + Docklands Festival '09, gets another showing (and standing on the NT mezzanine should give an interesting eye-level perspective with the performers, strapped in on six-metre sway poles); Cie Les Fées Railleuses combine circus and camping in Les Polyamide Sisters (should you wish to, click here to see almost the entire performance played out Benny Hill speed); and Gentlemen of the Road (The Chipolatas) and The Silver Tree (Avant Garde Dance) are worthwhile and welcome repeats. Middle of August, during the rainy season, there's a week of Spanish work: Los Gingers return to WTS with Perlas y Plumas, a hit from last year; Atempo Circ come down from Glastonbury; and Mumusic Circus take a second crack at performing Merci Bien (cancelled in 2009 due to bad weather). Concluding the circus quotient of the WTS programme is Trampoline Mission 3 from Cirq'ulation Locale, which promises 'maxitrampoline-acrobatics'. I don't know what that is, but yes. Yes.
Possibly my favourite of the outdoor festivals, Greenwich + Docklands is now on the Earth leg of its four-year thematic journey across the elements. One of the festival's strengths has always been large-scale set-pieces for audiences of hundreds (so this time round Voala takes over Royal Artillery Square for a giant aerial spectacle about a chance encounter between strangers in a train station), but it's the smaller pieces that I tend to gravitate toward, with a standout in the 2010 programme the collaboration between Graeae and Strange Fruit on The Garden. Performed in a de-consecrated churchyard and inspired by the poetry of William Blake, it's worth seeing on the strength of past success—the two companies worked together last year on the aforementioned Against the Tide. Also to watch out for are Gravity and Levity (in association with The Dream Engine), who bring their new outdoor piece Re-flex to Monument Gardens; an extension of G & L's ongoing work with counterweighting, it recreates a bamboo forest with a free-standing structure of flexible vertical poles. Then, finally, as part of the one-day Dancing City event that takes over the strung-out parks and plazas of Canary Wharf there's another chance to see Avant Garde Dance's The Silver Tree, which I really liked when it premiered at Paradise Gardens last year, but which it should be noted has changed over some of its performers for this run.
Moving outside of London, Surge Festival in Scotland is the first in a run of events planned by the new street arts and circus development organisation Conflux. The programme leans more towards street theatre and large-scale spectacle, but to watch out for are Moritz Linkmann's Youkali, a Chinese pole solo evoking pre-war Berlin, and All or Nothing & Strange Bird Zirkus' Spokes, a seafaring journey conducted on pole and aerial silks.
Then over in Farnham Theatre Meadows is a three-day big top circus festival organised, programmed and run entirely by young adults (14-26). Ockham's Razor perform feel-good audience-winner Every Action... alongside their sumptuously and uncharacteristically dark duet Memento Mori; Swamp Circus present Electrik, a show about a Cornwall farmer who finds and reactivates a broken android; and there's star factor from the Hoop La La Cabaret. (Also, a little bizarrely, mentioned here incidentally, there's a performance of The River People's morbid and beautiful Lilly Through the Dark, which doesn't really seem like big top material but who knows.)
Crossing from July to August, Stockton International Riverside Festival brings north a lot of the work seen at the London and Southern festivals—Atempo Circus Theatre, The Chipolatas, Gravity and Levity and Cirqu'lation Locale all feature—but presents also Fidget Feet's Awakening, an aerial dance piece reflecting on the lives of great women from history (another spin-off of the company's theatre show Madam Silk); plus French street theatre giants Les Apostrophés visit with Passage désemboîté (which looks very good).
After a slightly disappointing showing last year, the 2010 Edinburgh Fringe is a barren howling waste for contemporary circus, with the one exception Pas Perdus, a juggling and object manipulation show from Belgian company Les Argonautes that looks worth seeing. Otherwise skip Edinburgh and head to Newport in Wales where, as an initiative of the Riverfront, The Big Splash has collected a full programme of outdoor work, given Bristol's Invisible Circus free-run of the Riverfront building, and, perhaps most enticingly, arranged the rare spectacle of a true high-wire performance: Olivier Roustan walking above Newport's suspension bridge.