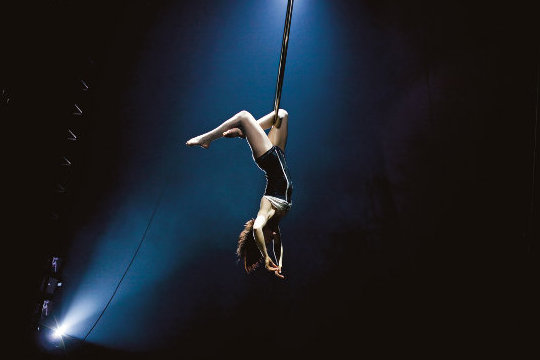 Circus of the senses. Founded in 1986 by five skint friends from Cardiff, NoFit State has grown steadily over the years to become the UK's largest contemporary circus. The main strand of the company's work is characterised by a strong commitment to youth/community practice (with artists who've emerged from NFS training programmes often appearing in the professional shows), and by large-scale immersive shows which are performed around a standing, moving audience (with the productions Immortal, Tabú and Bianco all directed by long-time collaborator Firenza Guidi). As their resources have grown, NFS have also been instrumental in supporting and mentoring young artists/companies.
Magazine
By John Ellingsworth on 3 February 2010 in
Interviews
'My desire to create work in non-conventional places, my desire to create work in what became a label, 'site-specific', comes not from a trend. I've been doing it for 25 years. And why? Because live performance—and I'm not calling it theatre or otherwise, I'm calling it live performance—is 150 years behind the visual arts. Live performance is still very much, in terms of how it is being read, is very much that proscenium arch left-to-right without ever challenging the thinking process of the viewer.'
Sideshow interviews director Firenza Guidi about her work on 6½ Flying Circus' first show, Canto - The Last Flying Chance in the North; her long-term collaboration with NoFit State; her collaborations with space; and lab work on NoFit State's new piece for the hated pros arch.
By John Ellingsworth on 31 March 2009 in
Reviews
If you're going I recommend tanking up beforehand. Not entirely facetiously; when you first walk in and the performers greet you and talk to you like they've known you forever a little alcohol will probably smooth over the dialogue.